Ninelu Tu, Taipei; Joseph Tsai, DIGITIMES
Wistron has announced consolidated revenues of NT$67.36 billion (US$2.29 billion) for February, down 15.16% on month, but up 36.31% on year, and NT$146.76 billion for the first two months of 2018 combined, up 40.97% on year.
The strong on-year growth was mainly due to better-than-expected shipment results for some notebook models, Wistron said.
Despite fewer working hours in during the Lunar New Year period, Wistron still shipped 1.2 million notebooks in February, about the same as in January. Meanwhile, the company in February shipped 150,000 LCD TVs, down from 200,000 units in January; one million desktops, down from 1.1 million units; 140,000 servers, down from 160,000 units; and 400,000 LCD monitors, down from 450,000 units.
For March, the company is expected to see rising shipments for the notebook, server, desktop and LCD monitor product lines, while LCD TV shipments will stay flat from a month ago. However, for the first quarter, all product lines will see double-digit percentage shipment declines sequentially with the notebook segment expected to slip 15-20% on quarter.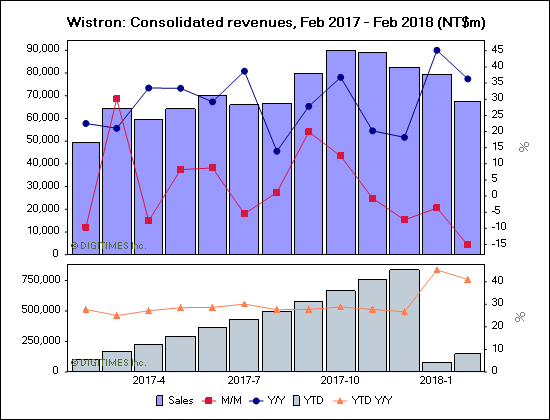 Wistron: Consolidated revenues, Feb 2017 – Feb 2018 (NT$m)

Month

Sales

M/M

Y/Y

YTD

Y/Y

Feb-18

67,362

(15.2%)

36.3%

146,763

41%

Jan-18

79,401

(3.7%)

45.2%

79,401

45.2%

Dec-17

82,490

(7.4%)

18.2%

835,633

26.7%

Nov-17

89,121

(0.7%)

20.2%

753,143

27.7%

Oct-17

89,790

12.4%

36.8%

664,022

28.8%

Sep-17

79,909

19.9%

27.8%

574,233

27.7%

Aug-17

66,630

1.1%

13.9%

494,324

27.6%

Jul-17

65,937

(5.5%)

38.7%

427,694

30.1%

Jun-17

69,802

8.7%

29.2%

361,756

28.6%

May-17

64,204

8.2%

33.4%

291,955

28.5%

Apr-17

59,343

(7.7%)

33.5%

227,751

27.1%

Mar-17

64,301

30.1%

21%

168,408

25%

Feb-17

49,416

(9.7%)

22.5%

104,108

27.7%
*Figures are consolidated
Source: TSE, compiled by Digitimes, March 2018